WANT TO DO DRONE PHOTOGRAPHY AT A PROFESSIONAL LEVEL?
Drone photography has come a long way since its trend started gaining popularity and is now viewed as an important art form. If you are a fan of aerial photography/videography, this advanced FPV Drone is the best product for you!
What features are you looking for a drone? Is it the battery life, the image quality, or others? Whatever it is, this drone pretty much got everything covered! Name it and you'll find it here.
Long Battery Life
Can't get enough flight time with your drone? Well, this drone won't leave you hanging. It has a long flight time of up to 20 minutes thus you can enjoy more and be amazed more!
With its long battery life, the fun is extended! You will have more ample time to fly it around so you can now capture more breathtaking photos and record more live footages with its 1080p HD camera. 

APP Connect
This KY601S HD FPV Drone comes with a removable 1080p HD camera that is capable of capturing breathtaking photographs and video.
The KY601S Quadcopter is controlled with an RC controller that connects to it via your cell phone's WiFi network. Through its Drone App, you can also live stream video from it for up to an amazing 20 minutes!
LED Lights for Night Flight
Worried about losing your drone during night time flight? This drone got you covered! You can still get entertained with drone even during night time because it is equipped with 11 LED lights that will make it visible in the dark.
One of the most common hindrances of why a pilot won't operate its drone is the safety of the device, especially during dark hours. With this KY601S 1080p HD FPV Long Flight Time Drone, you don't have to hold back your excitement to fly your drone anymore even during night time.
Foldable Compact Design
This Mini Drone With Camera features a very compact design that folds into itself to become small enough to be carried around in a bag. The RC controller can also be folded into a compact body, making it even more portable!
You can now go to places without the burden of bringing a heavy large drone. You can even simply slide this drone to your pocket and you're good to go! It's very tiny that you can bring it with you always just like your phone.
Altitude Holding Mode
Some special features of this FPV quadcopter include altitude holding, which allows users to capture clear Drone Video and photographs; one-key return to the point from where it took off; and flight track setting which gives you the freedom to define its flight path on your Smartphone's touchscreen.
Furthermore, it has 3 operating speeds as well which come in handy in varying windy conditions. 

Live Video Streaming
Live streaming is a thing now in today's age and this is why a lot of people are investing in HD cameras to stream high-quality videos. But, how about a live stream video through a drone? Wouldn't it be awesome? This drone can definitely do a lot of things including live streaming its aerial footage so others can see your live footage anywhere in the world.
One Key Return Landing
Another awesome feature about this drone is that it prevents the drone from missing using one key return and landing. In case of losing sight to the drone, you don't have to worry at all as it automatically turns its autopilot mode when return to home mode is on to arrive at its set home location. Just what every pilot wants!
Anytime your drone will be out of your sight, forget about manually controlling it to get it back. Just hit the RTH button and the drone will safely arrive at its saved home without you breaking a sweat.
Sharper and Wider Images
Equipped with 1080p HD Camera, this drone boasts to produce sharper and high-quality images and better video footage. It's a selfie drone perfectly designed in as small as smartphones but built with 110 Degrees Wide Angle Lens Camera so you can capture stunning and wider photos better than ever as well enjoy a clearer vision of the drone's perspective through your phone's screen.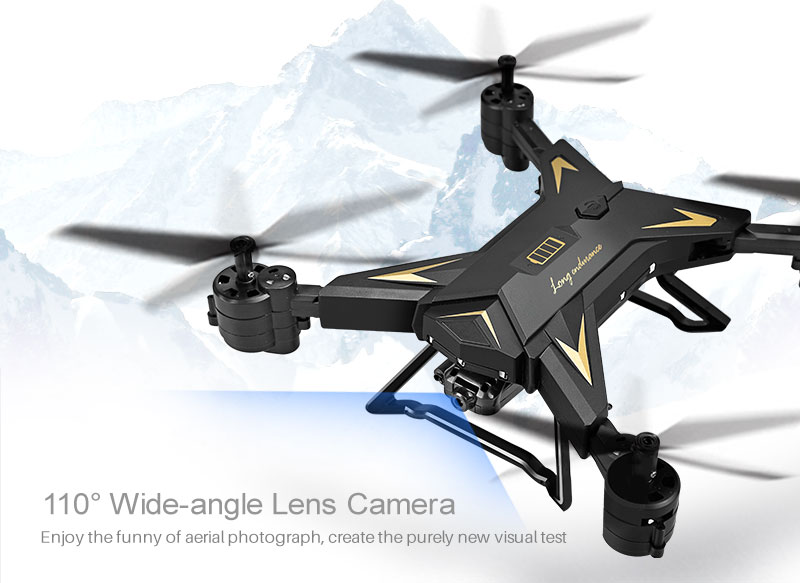 HEADLESS MODE
This drone is not only perfect for professional pilots but as well for beginners. The headless mode feature uses G-Sensor so that the drone will fly according to the controller's movements. It helps the pilot control the drone easily by moving the controller to directions and the drone will automatically fly relative to the controller's direction.
Bendable Gimbal
This model is made with high-quality materials to make sure it will last longer than any other drones. It is designed with a bendable gimbal to prevent any parts breakage when crashed to blocking objects.
360-Degrees Camera Flip
Struggling with your aerial shots? Guess what, you can fly this drone to any random directions without ruining your camera shots even if you flip the drone. Get the best angle for your aerial photos and videos with this drone's 360 Degrees Camera Flip.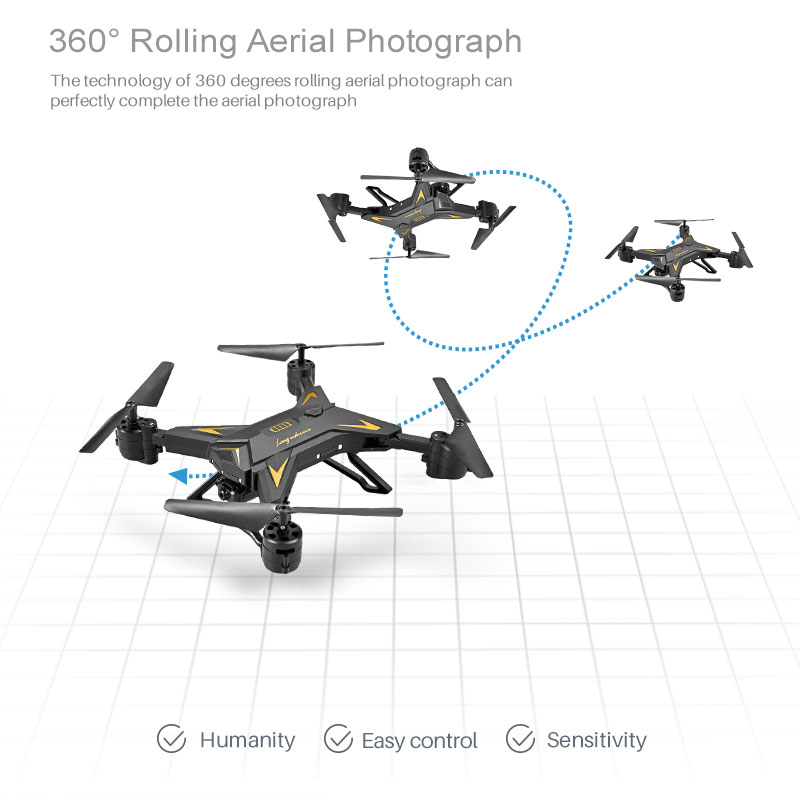 Features:

HD 1080p Camera 
WiFi Connectivity
Foldable Drone and RC Controller
Live Video Streaming
Altitude Holding
One-Key Return & Landing
Track Setting On Cell Phone Touchscreen
Package:
Drone * 1 

Remote Control * 1
Replacement Propellers * 4
USB Charger * 1
Protection Frame * 4
Drop-proof Floor Stand * 2
User Manual * 1 
Freebies: 4 in 1 USB charging cable * 1